Good day Friends
I am an independent Chaplain to the emergency services in the Overberg and Overstrand region of the Western Cape province of South Africa. In times of disaster and need, especially when people are involved, it is critically important that God's presence and guidance be sought at all times.
1 LIFE RESCUE is a non-profit Trust organization whose primary purpose is to provide a support service, firstly to all our staff in uniform of our area, and secondly, to our community during times of disaster and need. This service includes Chaplaincy service and Trauma Counselling. Our sincere desire is to be the hands and feet of our Lord Jesus, especially to those folk in the service of other people, their families, and those experiencing traumatic conditions.
I have been a Chaplain in the emergency services for over 20 years, and during which period set up trauma counselling and disaster management systems for Netcare 911 and other emergency companies. This became part of my valued experience.
I also set up and implemented the protocols and procedures for the control staff as well as the technical staff for international evacuation companies who I have worked for.
In the local area and surrounds, I started up the chaplaincy service about 5 years ago and have been expanding the coverage as time has gone along.
Up until now, I have been doing this in my spare time, funding it all out of my own pocket. I have also come to the realisation that in order to effectively serve the vast needs of staff in uniform, as well as others in our community, part time service certainly leaves many unserviced needs. I have integrated my 20 years of experience with the current needs being experienced and have dedicated myself to full time service.
The purpose of this service is thus to enable the staff of Fire and Rescue and other uniform divisions, to be able to focus on their exceptional expertise, leaving me to focus on the other complimentary areas, making a needed all round successful operation. This includes ensuring that these men and woman of services are taken care of spiritually and emotionally. This does not exclude victims of the respective emergency.
1 LIFE RESCUE was registered to be used to generate an income to further the primary goal of catering for the needs of our men and women in uniform.
Our aim is to generate an income from donations and support from various sources such as industry, churches, individuals and all who appreciate and cherish all those serving as outlined
Notwithstanding the above priority services, we are also embarking on some projects to assist people in the community that are out of work, to train them for firefighting, which will also assist them in generating an income . For this and amongst others we also need funds to provide protective firefighting uniforms for their protection and identification.
With the above approach, it is hoped that not only generating funding to serve the men and woman in uniform, we would also be directly assisting our community, thus providing much needed income for people who are currently out of work as previously mentioned. Again a practical way of being our Lord's hands and feet in the community.
How could you help?
Firstly, to share what 1 LIFE RESCUE is busy undertaking and for like-minded citizens to work together, and to support each other within the wider community that we love and serve.
Secondly, I would like to request that you consider some form of sponsorship for the trust to enable it to perform its critical function on behalf of the men and woman in uniform, as well as in the community.
Should you need any further information, please don't hesitate to contact me per e-mail or cell phone.
Thank you for your support, helping us to help our community, as well as the men and women in uniform who serve our community.
May God Bless you and Keep you.
Mark Robson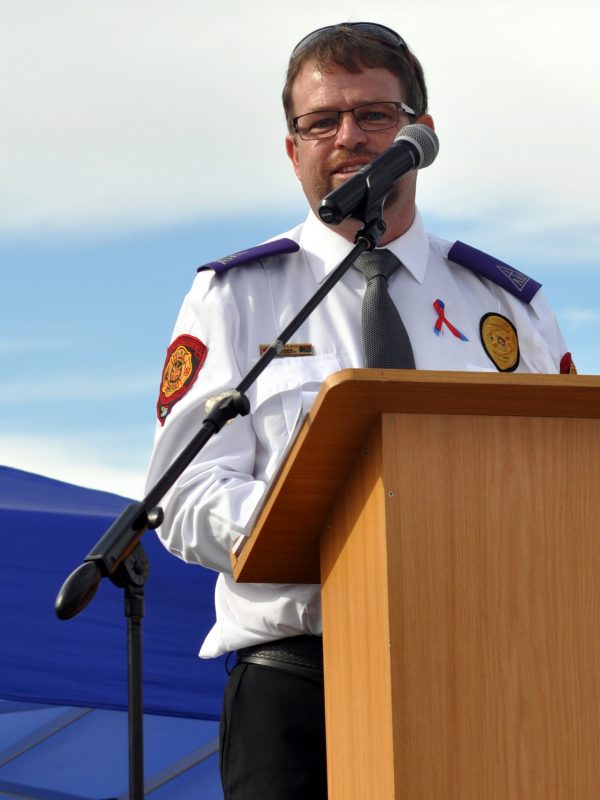 "Thank you for being in the front line and thank you to all citizens who care for these firefighters who have to keep on keeping on!"
Thank you for your support, helping us to help our community and men and woman in uniform who serve our community